In her position as sales and marketing intern with Lexus, Shea Ponder '22 traveled to Tennessee, North Carolina, and South Carolina this summer to assist the district managers, district service, and parts managers on their visits to various dealerships. There, she helped present information on those locations' current market share compared to the nation's. In the local office, Ponder assisted dealerships with allocating vehicles, forecasting monthly objectives, and producing reports of dealerships' performances.
The business administration major also had the opportunity to take the lead in planning a volunteer day at HomeStreet, a temporary housing community for families in a state of homelessness.
---
International studies major and Japanese minor Caitlin Marshall '21 spent her summer interning with The Japan-American Society of Georgia, sponsored by The Paul Hackett Scholarship at Oglethorpe. The position allowed her to grow the organization's social media presence, assist in planning virtual and in-person summer events, and help to prepare for the 35th annual JapanFest, the largest Japanese culture festival in the Southeast.
---
As a safe and stable housing intern with Atlanta Volunteer Lawyers Foundation, Ashrakat Hassan '24 assisted volunteer attorneys in collecting documents and evidence in favor of the client in eviction defense court. The politics major also connected clients with financial advice advisors to provide long-term support on their journeys to financial stability.
"Even with the CDC Moratorium (the declaration that ensures no tenant will get evicted within a certain time frame), landlords are finding ways to remove tenants unlawfully from their properties," Hassan explained. "It was rough hearing their stories of hardship. I had to let our clients know that despite it all, AVLF would have their backs when no one else did."
AVLF is looking for volunteers for their Saturday Lawyer program! Anyone can volunteer, even non-attorneys! Visit avlf.org or email Volunteer Manager Matilde Davis.
---
Stuart Clarke '22 spent his summer months living and working as a photographer and bunk counselor for Camp Caribou in Waterville, Maine. Camp Caribou provides land and water sport activities for boys ranging from 7 to 17 years old. Clarke was introduced to the opportunity by Professor of Art Christina Price Washington, who has served as his teacher and mentor throughout his studies as a studio art major. Visit Clarke's portfolio and browse his work here.
---
As a teaching artist trainee with the Alliance Theatre, Julianna Bush '22 spent her summer teaching children of all ages. Working alongside people who share her passion for theatre and education, the theatre major and psychology minor has worked with teachers to produce short plays, musicals, and skits each week.
"It was an amazing learning experience that I will utilize for the rest of my career," she said.
---
This summer, OU baseball's Heshie Getson '22 worked as a member of Guest Services with the Brookhaven Bucks, the hometown baseball team for the City of Brookhaven. The team  played several games at Oglethorpe's Hermance Stadium during their summer season, and Getson, a communication studies major, played a key role in hosting the "VIP area," where he accommodated advertising and merchandise sponsors of the Bucks team.
---
Business administration major Alex Moran '22 served as a finance director this summer for Atlanta Best Used Cars. There, he negotiated with lenders, calculated monthly rates on approved applications, worked with paperwork and contracts, and assessed paystubs and bank statements of customers. He is proud to have successfully brought in thousands of dollars in profit for the company this summer, along with gaining experience while working and competing with skilled professionals in his field. "You can do anything you put your mind to," he reflected on the experience.
---
OU Theatre Scholar Jariyah Williams '24 worked this summer as a teaching artist trainee, as part of her Alliance Theatre Cohort Fellowship. In the position, she was responsible for creating a fun and safe environment for the actors, while abiding by the organization's COVID-19 regulations.
"The icing on top was having the opportunity to help teach the students to trust themselves and their ensemble while learning new ways to improve me as an actress and mentor."
Throughout her time with Alliance, she has led young actors in the Improv Camp, Performing Arts Camp, Creative Drama Camp, Comedy Club, and Musical Theatre. In her time away from the fellowship responsibilities, Williams created her own monologues and began writing her own book.
---
The Chattanooga Football Club, a 100% fan-base owned professional soccer team in Chattanooga, Tennessee, recruited John Irwin '23 to work as a sales and services intern this summer. In this position, the business administration major assisted with building a database of prospective ticket buyers, selling annual passes and group tickets, designing and implementing campaigns and programs, and supporting community outreach programs.
"My favorite community outreach projects, which focus on leadership and education, involved establishing inner-city connections between the CFA and partners like The Bethlehem Center of Chattanooga," Irwin shared.
---
Sociology major Aylin Estrada-Palma '21 served as an intern this summer with LaAmistad, a nonprofit focused on catering afterschool programs, camps, and offering resources for first-generation and immigrant Latinx students in Atlanta. Her internship began as a volunteer position that has grown into an opportunity to assist in day camps and volunteer programs where she has participated in in-person food distribution. "This service gave pantry items and fresh produce items directly to families in their neighborhoods," she said about her time with the organization. "It gave me an opportunity to interact with the community in person and address any concerns or questions they had." LaAmistad is currently welcoming afterschool tutors and one-time event volunteers. 
---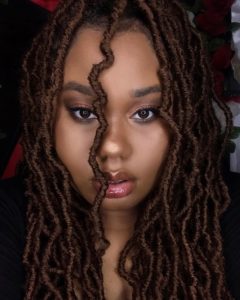 At Steve Harvey Global, Ivi D'vynne '23 worked this summer as a content creation and production Intern, helping to produce content for the organization's Vault Empowers. The internship has allowed her to curate storyboards and co-write scripts for Kirk Franklin's promotional video for his live coaching call. As a communication studies major, D'vynne has used her skills to work on projects focusing on engagement, outreach, and partnerships. "I have made important, powerful, and genuine connections at my internship that will hopefully last a lifetime," she reflected. "Once this internship is over, it is without a doubt that I will leave inspired and motivated."
Interested in pursuing an internship? Explore options with Oglethorpe's Career Development office!