Oglethorpe University Museum of Art has joined the ranks of Blue Star Museums, a collaboration among the National Endowment for the Arts, Blue Star Families, the Department of Defense, and a record-breaking 2,000 museums across America.
The Blue Star Museums program provides free admission for the nation's active duty military personnel, including National Guard and Reserve, and their families to any of the participating museums from Memorial Day (Monday, May 27, 2013) through Labor Day (Monday, September 2, 2013). These military families have an opportunity to enjoy the nation's cultural heritage and, in some instances, to learn more about their new communities after completing a military move.
The Blue Star Families organization is a national, nonprofit network of military families from all ranks and services, including guard and reserve. Blue Star is dedicated to supporting, connecting and empowering military families. Working in concert with fellow nonprofits, community advocates, and public officials, they raise awareness of the challenges and strengths of military family life and work to make military life more sustainable.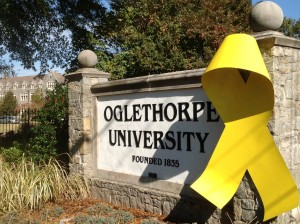 "Oglethorpe University was named as one of the 2013 Top Military Friendly Schools and a Yellow Ribbon institution, with a focus on welcoming returning servicemen and women as they transition to civilian and academic life, " said Elizabeth Peterson, director of the Oglethorpe University Museum of Art. "Joining the ranks of Blue Star Museums to offer complimentary access to our museum is one small way in which we can continue to assist in that transition and to honor military personnel and their families."
Oglethorpe has a long history of supporting members of the military and their families. Most recently, in fall 2012, Oglethorpe, together with the on-campus OU Veterans' Club, devoted a week to honoring our veterans. "Our Country, Our Voices: Oglethorpe Honors Our Veterans" offered lectures, a clothing drive, and forums about such topics as what it means to be an American. OUMA hosted many of these events, with its then-exhibition "Burden of Proof: National Identity and the Legacy of War" as a fitting back drop.
Currently, the OU Museum of Art is exhibiting "Jiki to Hanga: Japanese Porcelain and Prints," on view through August 25, 2013.